HOT!!! Oku Manami in Action!!!
selamat datang kaskuser sekalian di thread gue yang sederhana
sebelumnya sory kalo repsol
atau udah ada yang bahas
ini cuma pembahasan pribadi dari gue
Udah pada kenal kan sama AKB48? Yang lagunya heavy rotation yang diremake ulang sama girlband baru asal indonesia JKT48
Yoha! bener banget, yang sehari-hari kita dengar di televisi yaitu jinglenya Pocari Sweat.
Nah gue tertarik banget sama salah satu personel AKB48, maka dari itu gue bkin thread ini
Nama orang itu OKU MANAMI
: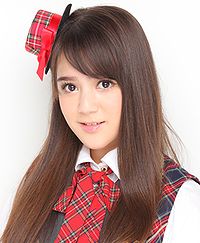 Dan berikut kumpulan fotonya
Spoilerfor foto:
Quote:
Spoilerfor cantik:
Spoilerfor cantik:
Spoilerfor cantik:
Spoilerfor cantik:
Spoilerfor cantik:
Spoilerfor cantik:
sebelum liat aksinya, gue kasih beberapa biodata dia gan :
Spoilerfor biodata:
Quote:
Name: Oku Manami (eH?)
Nickname: Maachan (~Aa??), Manamana (~j~j)
Birthdate: November 22nd, 1995
Birthplace: Tokyo, Japan
Blood Type: A
Likes: Horror movies
Height: 153.5 cm (5'0")
Bust: 81 cm
Waist: 60 cm
Hips: 87 cm
Agency: office48
Units: Honegumi from AKB48
Discography
[2010.05.12] Katatsumuri (K_d??) (Released as 'Ogu Manami'
lengkapnya ke sini aja gan
TKP
Spoilerfor about:
Quote:She is half Japanese (Mother) half Italian (Father).
Says "I'm sorry" often.
Good friends with Noro Kayo.
Used to often practice dancing with Umeda Ayaka and Noro Kayo at the backstage.
Her favorite actress is Ayase Haruka.
She is very friendly at the backstage while reserved on the stage, but recently she has improved.
Likes scary stories even if that will make her cry.
Seems close with Ono Erena since their audition.
Originally a member of Team K, she was moved to Team B after the team shuffle.