Crysis 3 [Repack - Lyxer_Loader | Black Box] [Only 6 GB]
Developer:
CryTek Studios
Crysis 3 [Repack - Lyxer_Loader | Black Box] [Only 6 GB]
Publisher: Electronic Arts Inc.
Genre: Action / Shooter
Crysis 3 [Repack - Lyxer_Loader | Black Box] [Only 6 GB]
Release Date: 19 February 2013
Size: Lyxer_Loader – 6.27 GB | Black Box – 8.55 GB
Requirements: Quad Core 2.7 GHz, 4 GB RAM, Graphic Card 1 GB (GeForce GTX 560 or better), 20 GB HDD, Windows Vista/7/8
The hunted becomes hunter in Crysis 3 where the player wears technologically advanced nanosuit.
This epart takes the player to the year 2047. The main protagonist is Prophet, an owner of a nanosuit, who fights against an alien race called Ceph and the Cell corporation. A giant dome appears in New York because of the company. Inside there is a diverse microcosm, called Seven Wonders. Prophet decides to infiltrate this place to learn the truth about Cell's plans and take revenge for earlier events.
Crytek decided to prepare more diverse locations compared to previous installments. This time the players visit the aforementioned dome that includes seven different types of terrain – from dense forests of overgrown trees to swamps to the fast-flowing rivers. Such diversity enables to demonstrate the power of CryEngine 3 generating truly impressive images.
Crysis 3 is still a pseudo-sandbox shooter with the advanced weapons being its core feature. A bow is a new toy handed over to the players. However, the game offers i.e. rapid-fire machine gun called Typhoon and plasma canon called Heavy Mortar. The developers also improved the nanosuit, i.e. an armor that guarantees extraordinary strength, durability and camouflage – it enables hacking selected elements of the environment and use them against the enemy. All these gadgets and options can be used in both solo campaign and expanded multiplayer mode.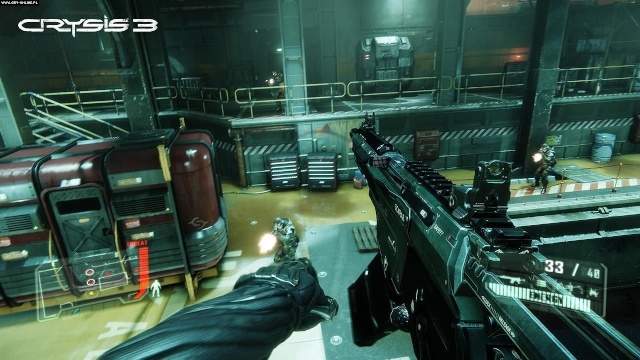 | Minimum | Recommended | Ultra Recommended |
| --- | --- | --- |
| Dual Core E6600 3.06GHz | Core i3-2120T 2.6GHz | Core i7-2600K 4-Core 3.40GHz |
| Athlon II X2 260 | Phenom II X4 810 | FX-4150 |
| GeForce GT 520 | GeForce GTX 650 1GB | GeForce GTX 680 |
| Radeon HD 6450 | Radeon HD 7750 | Radeon HD 7970 |
| 2 GB RAM | 4 GB RAM | 8 GB RAM RAM |
| Windows Vista 32-bit | Windows 7 64-Bit | Windows 7 64-Bit |
| Direct X 11 | Direct X 11 | Direct X 11 |
| 20 GB HDD Space | 20 GB HDD Space | 15 GB HDD Space |
Crysis 3 – RePack by Lyxer_Loader – NFO
Ripped by: Lyxer_Loader
Ripped: other languages voices, some multiplayer files
Recode: Textures rebuild
Audio language: English
Text language: Multi8
Version: 1.3
Size: 6.27 GB
PASSWORD – www.coregames.org