Cara Memainkan PUBG Mobile di PC dengan NoxPlayer / How to play PUBG Mobile on your PC with NoxPlayer
So here are a few steps how can you play PUBG Mobile on your PC with NoxPlayer.
Jadi di sini adalah beberapa langkah bagaimana Anda dapat memainkan PUBG Mobile di PC Anda dengan NoxPlayer.
Please first confirm that your version of NoxPlayer is V6.0.5.0 and above (if you don't know which version you use, you can view the version in the upper left corner of the emulator. ) Official website loading point: https://en.bignox.com/ -
Harap konfirmasikan dulu bahwa versi NoxPlayer Anda adalah V6.0.5.0 dan yang lebih baru (jika Anda tidak tahu versi mana yang Anda gunakan, Anda dapat melihat versi di sudut kiri atas emulator.) Situs web resmi memuat poin: https: //en.bignox.com/



Go to Google Play Store and download PUBG Mobile
Perg
i ke Google Play Store dan unduh PUBG Mobile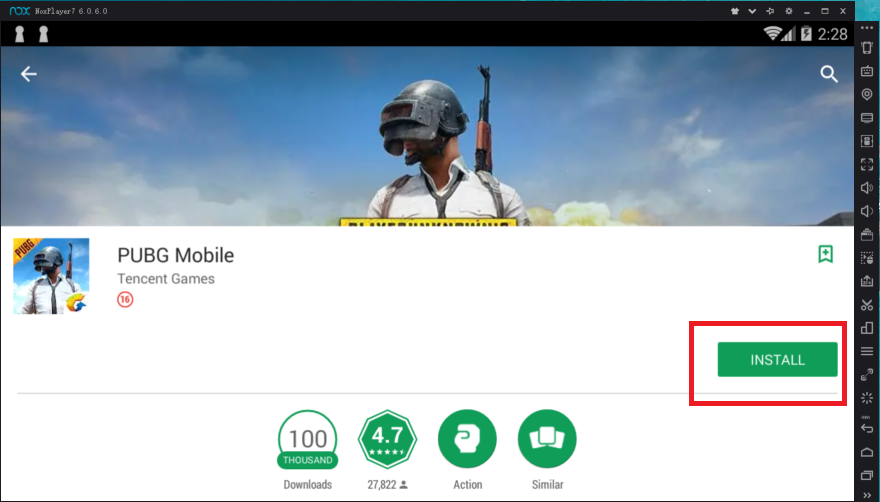 After installing run the game and set some emulator settings for better performance.

Emulator settings:

CPU more than 2, we recommended setting ≥2,

Memory ≥ 2048 and more,

Graphics rendering mode is DX mode,

*If you cannot run PUBG Mobile in DX mode, you can switch to OpenGL too.

Resolution: 1280*720
Setelah menginstal jalankan game dan atur beberapa pengaturan emulator untuk kinerja yang lebih baik.
Pengaturan emulator:
CPU lebih dari 2, kami merekomendasikan pengaturan ≥2,
Memori ≥ 2048 dan lebih banyak lagi,
Mode render grafis adalah mode DX,
* Jika Anda tidak dapat menjalankan PUBG Mobile dalam mode DX, Anda dapat beralih ke OpenGL juga.
Resolusi: 1280 * 720
4. Please follow the hints in the figure below to set the keyboard control transparency to your preference and click Save. The official keyboard control cannot be deleted but can be customized to re-edit and set.
Silakan ikuti petunjuk pada gambar di bawah ini untuk mengatur transparansi kontrol keyboard sesuai keinginan Anda dan klik Simpan. Kontrol keyboard resmi tidak bisa dihapus tapi bisa disesuaikan untuk diedit ulang dan disetel.


Notice: If after running PUBG you have a white screen, please quit Nox after changing settings(we showed you in step 3) and run again for taking effect.
So now you are ready to start your Battle Royal Game! Enjoy!
Perhatikan: Jika setelah menjalankan PUBG Anda memiliki layar putih, silakan keluar dari Nox setelah mengubah pengaturan (kami menunjukkan Anda pada langkah 3) dan jalankan lagi untuk mengambil efek.
Jadi sekarang Anda siap untuk memulai Battle Royal Game Anda! Nikmati
#pubgmobileonnox #emulatorandroid